Trans Figures - Transgender Erotica - M. Christian NEW Book
Trans Figures - Transgender Erotica
M. Christian
This is a Brand New Book. paperback 245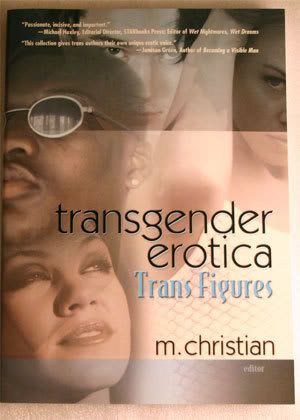 Trans Figures - Transgender Erotica
Transgender Erotica: Trans Figures is an erotic anthology of fiction and personal account that explores the creative limits of human sexuality—the transgender experience. Long misunderstood and under-represented in literature, emotional and sexual transsexuality exposes what erotic experience can and should be—limitless. Erotic stories where men and women, each discovering their true sexual selves, find desire and boundless passion waiting for them through self-acceptance and self-revelation. These are beautifully crafted tales of heat and desire, always stimulating, always thoughtful, always real.

Transgender Erotica: Trans Figures is brought to you by the one and only M. Christian, renegade author of the critically acclaimed Dirty Words, Speaking Parts, and The Bachelor Machine. Here he brings you sizzling stories of men and women exploring themselves, wishing to be identified by their true sexual self regardless of their original anatomy. Whether you are a man inside a woman's body or a woman inside a man's—these stories will engage your emotions as well as stimulate your libido.

Transgender Erotica: Trans Figures includes:

* Raven Kaldera's story of a woman desiring a same-sex relationship—with a man
* Annie Sprinkle's account of her first female-to-male transsexual lover
* Bree Coven's story of a boyfriend and his job as a lesbian porn star
* Susan St. Aubin's tale of curiosity and pursuit—is it a man or a woman?
* Ralph Greco, Jr.'s story of flaming desire on a train that illustrates that "straight" may or may not be straight
* Patrick Califia's tale of a club tryst that ultimately defines a man's sexuality—depending on how you look at it
* And many more wickedly sexy stories!

Transgender Erotica: Trans Figures takes everything you've ever thought of sexually and adds a dimension beyond your wildest dreams. Indulge yourself in the erotic allure and vast emotional spectrum of transgender, transsexual, and intersexual sexuality.

Trans Figures - Transgender Erotica
In stock-ready to post on Monday
All required fields are marked with a star (*). Click the 'Add To Cart' button at the bottom of this form to proceed.
Related Items
Australian Owned